Andrea Sella's Haidinger's Brush Trainer
Be the envy of your friends! Tell them the angle of polarisation of the light in the blue sky, with no equipment at all!
The purpose of this site is to help Andrea, and maybe you too, to learn to do this.
When you see a flat plane of polarised light such as the blue sky, with the naked eye, there is an extremely faint coloured pattern visible, due to the characteristics of your retinas. This pattern is called Haidinger's Brush. Here's how you can learn to develop a "sixth sense" and see it yourself.
First, learn what it looks like.
It looks like this (maybe rotated), and extremely dim, in the centre of your field of vision. It's about as big as the tip of your thumb at arm's length. Move the slider; try to see the pattern when it's as dim as possible.
Actually, due to Method 2 below, it is visible on your monitor even when the slider is all the way to the left.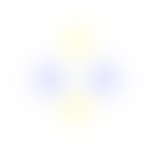 Second, learn to see it in an artificial situation.
Method 1, with a polarising filter.
You'll need a polarising filter, or a pair of polarising sunglasses, and a piece of white paper.
Look through the filter at a brightly-lit piece of white paper. Look for the pattern. It's very faint, almost not there. You are seeing it, but normally overlook it due to its extreme faintness.
The blue is maybe easier to spot, appearing brighter than the paper.
Move the filter around. The shape stays put: it's in your eyes.
Rotate the filter. The shape rotates with it.
Method 2, using an LCD display.
The light coming from an LCD display such as your computer monitor is polarised. You can learn to look at a white field on it, and see Haidinger's brush.
Displays differ as to their angle of polarisation. You can look round a room of monitors and see which ones are polarised which way.
A great way to learn to glimpse it is to look at a white field on the screen of a tablet, such as an iPad. Quickly turn the screen 90°. Haidinger's brush will rotate with the screen, and suddenly you're looking at complementary colours, so it is more noticeable. Or if you're using a monitor, tilt your head back and forth by about 90°.
Rotate the screen or your head back and forth, until you spot the pattern every time. On an iPad it's best to set rotation lock, so the picture does not change when you rotate it.
Third, learn to see it in the sky.
Look at clear blue sky, 90° from the sun, with your naked eyes. Dart your eyes around and see if you can spot it.
Against the blue sky, the yellow parts of the pattern are most noticeable, looking like a faint brown smudge in the center of your field of vision.
Now that you can see it, use it to "read" the angle of polarisation. Mentally connect the two blue blobs with a straight line. The angle of this line tells you the angle of polarisation. So the example above shows you horizontally polarised light.
Learn more about Haidinger's Brush on Wikipedia.